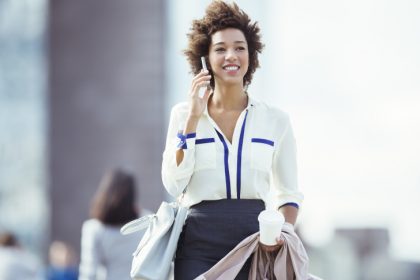 Most email marketers aren't seeing the ROI they deserve for one reason – they're operating under some dangerous misinformation about phone calls. When email marketers shy away from encouraging their audience to connect over the phone they miss out on serious bottom-line benefits including:
Increased engagement, especially from mobile users
Better personalization and segmentation from call and voice data
Total visibility into email performance and ROI
In today's omnichannel world, where consumers demand choices to connect how and when they want, email marketers have to start thinking about phone calls — or continue seeing declining response rates and irritated customers.
For those of you who are still thinking about phone calls likes it's 1990, I have debunked five common email marketing myths about phone calls.
Myth #1: No one wants to call from an email
False. More than half of all emails are opened on a mobile device according to research from Litmus. Despite all the supercomputer capabilities of a smartphone, at their core, they're still phones, and a call is one of the easiest things you can do with them. Not only is a call a convenient, native action to take on a smartphone, but people want to call. In fact, 162 billion people will call businesses from their mobile phones by 2019 according to BIA/Kelsey. If you're still not convinced customers want the option to call, here are a couple more stats:
65% of people prefer to contact a business by phone versus 24% who prefer a web form.
43% of people pick up the phone to call a business at least once a week.
People are calling and these calls are valuable. Phone calls across industries last nearly 5 minutes — a clear indication of the high quality nature of calls. They also convert at 10x the rate of clicks. That is an opportunity marketers can't afford to ignore.
Myth #2: I won't get credit for the calls I drive
Wrong. You deserve to get credit for all of the engagement, conversions, and revenue you drive from your email campaigns. When someone calls either directly from an email, or if they click through to your website and call, you will be able to see which campaign and which email drove the call. You no longer have to choose between including phone numbers and getting credit for all of the engagement your emails are driving.
Myth #3: I have no visibility into what happens on the call
Not true. Voice analytics give you the insights you need to understand what is said on the call and the outcome of the conversation — whether an appointment was set, a quote was given, a sale was completed, or anything other important action occurred. Call intelligence also allows you to tie a sale and actual revenue dollars to the call and the email that drove the call. With this information, you can accurately calculate your email ROI for the first time because you're seeing online and offline conversions and sales. Call intelligence is an investment, but you'll easily and quickly see the returns.
Myth #4: I would need hundreds of phone numbers
False. Call intelligence platforms allows you to add dynamic phone numbers to your campaign template in a few simple steps. This is important for two reasons:
You don't have to put individual tracking phone numbers in each email
You don't need a unique phone number for each email
These dynamic phone numbers automatically populate your email when the recipient opens it.
For mobile emails, the phone number is automatically replaced by a click-to-call button. And the best part is, you don't have to talk to IT!
Myth #5: It's a lot of manual work to add a phone number to each email campaign and I don't know how to code
False. Thankfully call intelligence tools make it simple to add a phone number to your email campaign. And did I mention that it doesn't require any knowledge of HTML or Javascript? Adding phone numbers simply requires that you drop a snippet of code in your email template. The rest is taken care of. Dynamic numbers will populate in the emails once they are opened (and they'll look exactly how you want them), click-to-call buttons will automatically be displayed for mobile users, and everything will be tracked. Not only is setting up the phone numbers and click-to-call buttons in your emails a breeze, it is easy to set up the caller experience. Call intelligence allows you to set up clear routing and filtering so only the high-quality calls get to the best department for the purpose of the call. You can set up specific rules around the day/time of a call, the caller's location, whether they're a new or repeat caller and more. You can design a successful caller experience within your call intelligence tool in a few simple steps.
The ability to successfully deliver a more relevant and personalized customer journey based on both online engagement and phone calls
It's time to say goodbye to decreasing open rates, falling conversions, and sales. If you would like to learn more about the power of phone calls for email marketing, get your copy of our eBook, Email, Meet Phone Calls.
Source: Invoca