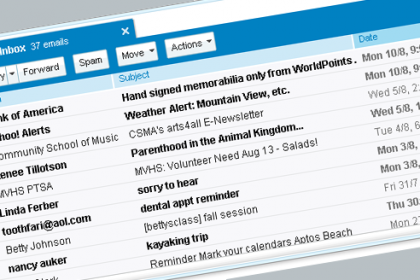 When an email finally hits the inbox, it has a tall order to fill. Studies report than an average person is served approximately 3,000-20,000 marketing messages a day (whether they see them or not). Of course, it's impossible for anyone to process that much exposure. The average number of "ads-only" messages that make an impression per day is 12.
An email's subject line and the sender are the gatekeepers for scoring an email open and they ultimately decide whether a marketing message makes an impression or not. We've rounded up some killer subject lines from real brands and successful companies to help email marketers triple the traction on their emails.
Check out these heavy hitters and learn how to improve your open rates instantly.
1. How Ezra Firestone made $41,254.34 in sales from $775.50 in Pinterest ad spend (Digital Marketer)
Using any sort of social proof, testimonial, key findings and numbers is a sure fire way to pique interest. This subject line applies a few tried and true success elements including generating self-interest by offering valuable information, using a story as the hook and using odd numbers to get attention.
2. NO JOKE: We've enclosed your 50% discount! (Staples)
This subject line uses an icon inferring that there's an attachment in the email, making the message more valuable. Additionally, the company is offering a big benefit by giving away a coupon that subscribers would be interested in.
3. [C&C Tickets] 50% off sale ends at Midnight… (Digital Marketer)
Creating a sense of urgency is a great way to force customers to come to a faster decision and to act right away. If a product or service has a deadline or time-sensitive information, use this as ammunition. Other key components of the subject line include the use of a promotion as well as brackets, which are key contributors to increasing subject line click-through rates.
4. 250+ Beautiful Hand-Drawn Templates, Backgrounds & Graphics (Mighty Deals)
One of the best ways to get an email open is to clearly offer major value. This subject line offers a variety of benefits that the target audience would be highly interested in. On top of that, the subject line designates exactly how many different features the benefit has.
5. 3-Step Viral Video Formula (4,005,210 views on YouTube) (Digital Marketer)
Using lists and numbers is another powerful way to get a surge in opens. This subject line uses a couple tricks, including highlighting the quick and easy process of reaching the benefit. They also use the word "formula" which denotes that there is a streamlined process for this success.
6. 0 DAYS LEFT: NIKE LAUNCH IS HERE. (DSW)
Countdown timers have been gaining popularity and momentum over the past few years for a reason: they work. Identifying scarcity and urgency is one of the oldest tricks in the marketer's handbook, so getting more creative in applying this message is key. Nike gets extra points here by adding a countdown icon to emphasize the launch date.
7. It's National Coffee Month. Save 25% on ALL World Market Coffee. (World Market)
Tying in marketing messages to relevant worldwide events or industry news can generate a lot of buzz. Having a promotion or service that ties into the message creates a strong relationship. World Market even adds a special discount to power the timely message even further.
8. How to Hit #1 on iTunes (Digital Marketer)
This subject line is direct and speaks to the specific benefit stated. On top of that, it also takes on the storytelling angle with a "how-to", while promising value and generating curiosity. The subject line doesn't lack in building confidence in the message and highlights the winning spot everyone wants: #1. This is also a great subject line to pre-qualify subscribers for further email drip sequences.
9. New Sales Tax Laws Are Now In Effect (Website Magazine)
This subject line does a good job keeping subscribers in the loop on relevant news related to the field and builds authority while signifying a sense of urgency. Applying recent news and tying it in with a fear-factor is an effective way to command attention.
10. [Just In] Google Releases NEW Advertising Features (Wordstream)
Here's another example of using news and relevancy to spark interest. This subject line also applies brackets to illuminate a time sensitive piece of information and promises a key benefit for advertisers in the message.
11. ENDS TOMORROW: Presidents' Day savings on HDTVs, laptops & more (Best Buy)
This subject line does a couple of things: first, it tells the reader exactly which products are in the offer. Second, it applies recent events (Presidents Day) in conjunction with urgency to get the point across that this is the last chance to act.
12. 0.98% APR Financing This Weekend Only from SDCCU! (San Diego Country Credit Union)
Another great example of using urgency is from SDCCU. This subject line gets extra momentum by providing a killer offer. They also tell the reader that other credit unions are not offering such low interest rates, suggesting scarcity and creating self-interest in the reader.
13. How Do You Rank These 12 Areas? (Mindvalley Academy)
Using questions to prompt feedback and dialog plays upon the humanity behind marketing. It helps subscribers remember that they have a voice and that the company is interested in it.
14. Taylor Swift card collection – Exclusively for PAPYRUS (Papyrus)
Another effective way to grab attention is to apply the human element through celebrity power. Brand endorsements or name-dropping can help validate the information in the email. Kudos to Papyrus for mixing celebrity power with exclusivity.
15. How an electronic retailer surged their revenue by 60% (Digital Marketer)
This is a great subject line. The "how" angle always tempts with storytelling, while the benefit and the proof work together to build interest.
Subject lines are closely related to click-through-rates and should clearly tell the reader what to expect in the email. Never forget to do your own A/B tests. Every audience is different and many factors like holidays, days of the week and times of the day can impact open rates. Lastly, if you need some input on your subject line, head on over to www.supjectline.com. This free tool evaluates how mobile friendly the subject line is, whether the length is appropriate and whether the words, symbols, punctuation or characters affect the deliverability and marketing of the message.
Source: Blue Hornet