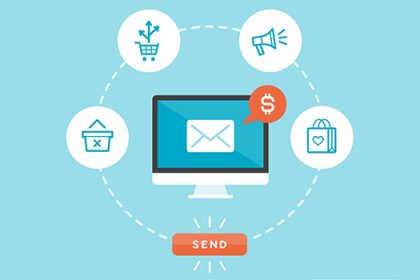 In terms of acquisition and conversions, email is significant. It's rarely what converts a visitor to a lead or customer, but it's usually what guides prospects through the buying process. By law, one can't mass-email a list of prospects who haven't elected to receive emails from you. Their original conversion, or when they provided you their email, originates from elsewhere, such as SEM, SEO/content/inbound, social, and so on. Email marketing begins working at this point to drive momentum.
We think of email as a supplement to other sales channels because it's mostly not the origin of a lead, but it touches virtually every point in the sales funnel and contributes to conversion and revenues.
Here's how email enhances our lead and marketing strategy.
Every lead that comes to us receives a lead metric that assesses their sales viability during their time in the funnel. While some services enrich your email list with bits-and-pieces demographics automatically, email itself generates activity that can inform how your leads are behaving. For example, one can assess whether leads are opening emails, clicking, unsubscribing, and so forth.
If you have a new offering that may interest some of your less-active leads, email campaigns are a powerful tool to connect with less-active leads and get them back into your funnel. This requires you to have close alignment with your product team to make sure your timing and message are right. But be careful to not email leads that haven't been active for a long period of time. Doing so could lead to bounces and spam complaints. If recipients haven't responded in more than three months, it's better to let them go.
The quality of your leads is often measured by the rate at which they convert through the sales process, not simply by the number of leads you've gathered. Leads accepted by sales and/or revenue conversions is a better metric.
For example, in the initial stage, prospects might benefit from learning best practices associated with your product. Further down the funnel, they may be interested in case studies from other satisfied customers.
Lead generation is ultimately measured by revenues, and if these aren't sustained, it puts a hindrance on the program's performance. Email is a great channel for keeping your paying customers engaged and active with your product.
While email isn't a lead generation channel on its own, it's still a vital tool in our overall lead gen strategy and can maximize ROI from other channels' activity. Remember, the more engaged your customers are with your product, the better their retention and potential for using other products you offer. For more on email best practices, check out our 2017 Citirex Email Marketing Guide.