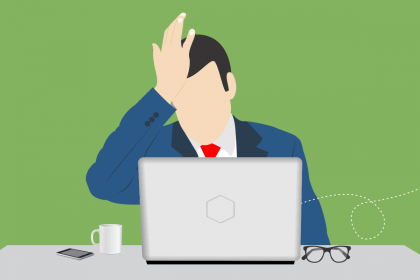 Email marketing is the lifeblood of many businesses and an experimental procedure for others. Regardless of where you fall into the spectrum, you could still be making some crucial email marketing mistakes that may be costing you subscribers, leads, and sales. One of the most crucial mistakes that email marketers make is in regards to their deliverability. Emails need to hit the inbox of the recipients, and if they don't, your ESP is not going to be happy with you. An email list needs to be as clean as possible and void of non-existent contacts and inactive accounts. In addition to your list needing to be as healthy as possible, there are also some key mistakes that you could be making when you send out your emails. Let's take a look at these mistakes and how you can fix them.
Email Address Changes
While many people keep the same email address for years and years, many people also have alternate email accounts that they use for various purposes. Someone can grow tired of an alternate email account or perhaps decide to change their primary address. This means that the subscribers from those email addresses will now be inactive and are hurting your conversions and wasting valuable resources by sending emails to them.
You can fix this by looking into your email analytics system and analyzing which subscribers haven't opened your emails for months. This is a strong indicator that the email address you have is no longer in use and probably not worth holding on to.
Typos In The Email Address
If someone misspells a domain name or puts a typo into their email address then an incorrect address is going to be added to your list. You may not even know this and end up sending that email hundreds of promotions and marketing campaigns to no avail.
This can be fixed by making sure that your subscription form has double opt-in enabled. This means that someone has to log into their email account and confirm that they want to subscribe to your list. If their email address was typed incorrectly, then there is no way that they will receive your welcome email.
Dead Email Address Domains
Having subscribers on your list who have email addresses from dead domains are going to hurt your bounce rate. It's common for people to sign up for newsletters using the email address from a domain that they own or perhaps work for. If they decide not to renew that domain name or don't work for that company anymore, then their email is dead weight for you.
You can fix this by using an email marketing service provider that has a confirmed opt-in feature or has a validation service which can detect dead email addresses. These features can allow you to constantly cleanse your list and keep it as clean as possible without you having to do the grunt work.
Transfer of Email Address Ownership
Some companies will recycle their email addresses and give them to a new staff member. When this new staff member checks their email starts to see emails coming from you, chances are they aren't going to know you. This means that they could decide to hit the unsubscribe button in your email or worse; flag it as spam. While a transfer of ownership may seem insignificant on the surface, if your emails start getting flagged as spam, you can bet your email service provider is not going to be happy.
Fixing this will again come down to monitoring your individual users open rates. It can be virtually impossible to stop a new staff member from flagging your email as spam on their first day of work. So your best bet is to see if someone has not been opening your emails for an extended period of time.
Improving Your Email Deliverability Rate
It's imperative that your email list is as clean as possible. Utilizing these tips mentioned above can help you in cleansing your list and assuring that you minimize your risk with dead emails and inactive subscribers. Have an active and engaging list is exactly what you want and is what's going to drive your conversions. Don't think about your email list by numbers on face value. There's a difference between having ten thousand subscribers with a one percent conversion rate and having one thousand subscribers with a thirty percent conversion rate. The number of emails you have on your list shouldn't be looked at from a point of vanity, but rather a point of results.