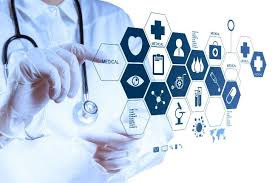 As we already know we have an abundance of information at the tips of our fingers thanks to the internet.  What separates you from the others in your industry, specifically, healthcare? I'll tell you…it's the strategy in which you have chosen to implement your digital marketing.  Many healthcare industries are slow to gravitate to newer tech-savvy ways of growing their business because of concerns they may have with FDA restrictions and  HIPAA regulations. The great news is that those concerns are no longer a problem with current digital marketing trends…
So what are those key strategies? The obvious place to start would be by using an excellent organization that specializes in digital marketing and ongoing IT support, and most importantly, privacy.
1. Responsive Website
Build a website that is both user-friendly and designed to provide optimal viewing from multiple devices (desktops, laptops, smartphones). Optimal viewing is specifically crafted by building a webpage that conforms to the size of whatever device you are using which minimizes scrolling and zooming while providing easy interaction.  When you create one strong user-friendly webpage strategy, you will then be able to focus on other goals: such as increasing visibility, reach and conversions, while decreasing expenditures and effort.
2. Search Engine Optimization
It is crucial that your organization develops an amazing search engine optimization strategy (SEO). While this is dynamic and ever-changing, it is important to start strong and maintain that competitive edge by staying on top of internet trends. While SEO may be highly competitive in your prospective field, it doesn't mean yours can't be better.  It is important to make sure that you develop a targeted SEO. By using a highly targeted SEO you will increase your web ranking and become more organically visible. The ultimate goal: exposure, more clients and higher profits.
3. Content Marketing
Content is key. If you want a strong SEO, you must be willing to put in the time and be ready to add more content on a consistent basis. To succeed in today's developing healthcare industry, companies need to constantly produce new content that not only gets them found, but also enables them to capture leads.
There are multiple channels to get out your content: social media, webinars, videos, conventions, blogs, re-posting relevant information; the possibilities are endless. When crafting your content, if done right, it too will increase web traffic and conjure new leads.