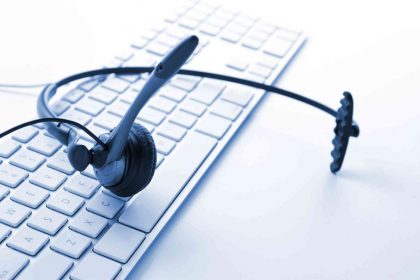 The online form was once revered as the ultimate tool in lead generation. For years marketers have tried every trick in the book to just get people to fill out a (freaking!) lead form.
Try an enticing giveaway: been there.
Reduce form fields to the bare minimum: done that.
Optimize your landing pages to death: old news.
But why focus all your energy on squeezing more leads and revenue out of web forms? They aren't ideal for your mobile visitors, and in many cases, customers don't want to leave their information behind, only to be contacted at a later, and no doubt more inconvenient, time. The good news is that marketers are moving on to greener pastures, and those pastures are phone calls.
In this day and age, when you can go from a digital experience to a phone call with the tap of a button, more customer are calling businesses than ever before. In fact, BIA/Kelsey reports that businesses will get 162 billion mobile phone calls by the year 2019. Not only are people calling more and more, but those phone calls are much more valuable than a typical online lead. Marketers have begun to realize they can maximize leads and revenue by simply giving people the option to call.
Here are nine reasons digital marketers are dumping lead forms in favor of phone calls.
1. Contact Rates
When it come to contact rates, there's just no competition. Inbound phone calls have 100% contact rates while research from InsideSales estimates that 71% of web leads are never contacted. 100% contact rates versus 29% — which do you prefer?
2. Lead Record Accuracy/Completeness
Lead forms are fraught with missing and fraudulent information. In fact, according to Dun&Bradstreet's 2016 State of Marketing Data Annual Report, B2B marketing data is "questionable" at best, with 62% of lead records lacking a phone number. It stands to reason that B2C lead generation suffers from the same problem. You take all the trouble to capture the lead, only to get a fake (111)111-0000 phone number that you'll never be able to reach.
Phone calls not only come with the prospect's phone number, but with call intelligence, you can capture the marketing source, as well as detailed demographic information. Phone calls come with a whole new level of insights that you can use to optimize targeting and your overall strategy.
3. Lead Quality
I hate to sound biased here, but in the quality category, phone calls come out on top again. When prospects call a business, they are highly motivated and more likely to make a purchase. According to Invoca's data, phone calls convert at 10 times the rate of digital leads.
4. Response Time
Phone calls have the benefit of immediacy. InsideSales reports that contact and qualification rates decrease by 10 times after the first five minutes of the prospect submitting a form. That's a lot of leads that go in the trash just because of a slow response time.
Phone calls give the consumer the power. They get to choose when they want to connect.
5. Value
Invoca's customers often report that phone calls have much higher order values on average than their web leads. And this makes sense. When prospects call, they benefit from the one-on-one help of a sales rep who can alleviate concerns and objections. Sales reps also have the opportunity to cross-sell and up-sell.
WordStream has also observed this phenomenon, reporting that phone calls are three times as valuable as clicks to a website.
6. Mobile Friendly
Tell me, what seems more convenient: filling out a long form on your smartphone or making a quick phone call? Phone calls are on the rise as mobile usage continues to grow, and that's because phone calls are easy and tend to align with mobile consumer's goals. It's no wonder that 70% of people have called a business directly from a mobile search ad.
7. Personalization
There's a lot of talk about one-to-one marketing, but often "personalized" digital interactions miss the mark. I can't tell you how many times I've gotten an email from a company that is addressed to the wrong name, or how many times I've been retargeted with a product I already purchased.
As marketers, we should definitely keep striving to achieve more meaningful and personal digital conversations, but that doesn't mean forgetting phone calls. What's more personal than a phone call? Plus, data from phone calls can be used to make online and offline conversations more personal.
For services or products that tend to require a personal touch — think industries like legal services, insurance, and financial services – phone calls should be a key part of the lead generation strategy. Customers in these verticals often need to talk with a live agent at some point in the journey. You may as well give them the option right on your landing pages and website.
8. Easy to Track
Okay, phone calls don't necessarily trump lead forms for trackability, but it's a tie at the very least. Call tracking solutions provide all the same metrics for calls that you are accustomed to seeing for digital leads. Marketing source, campaign, keyword, cookie data, it's all there. And you can get this data wherever you need it.
9. Resource Commitment
You may be thinking that driving inbound phone calls would be an enormous drain on your internal resources, especially when compared to lead forms. The truth is that managing, nurturing, and trying call web leads takes a ton of manpower, even if you are using a marketing automation solution.
Phone calls do require sales agents to answer the phone, but isn't that what they want to do? Sales agents want to talk to motivated consumers on the phone. Plus, when you use a call intelligence platform, you can set custom filtering and routing rules so your call center or sales team only spends time on qualified calls.
Source: Invoca