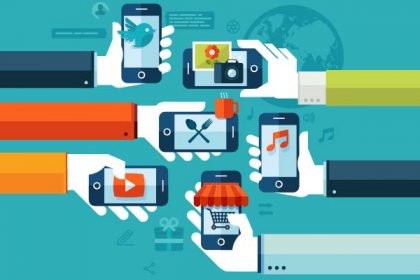 With the incredible rise of the use of mobile devices, it's no wonder that they have overtaken desktops as the most preferred method for using the Internet. That's right, mobile devices such as smartphones and tablets now account for 51.2% of all the Internet traffic worldwide. With over 2.6 billion smartphone users globally and the subtle immersion into our daily lives that these devices have managed to achieve, many businesses have failed to catch on to this new way of life and are not adapting to it with their online presence.
Marketers Haven't Adapted
In 2012, marketing leaders dubbed the year as the "year of mobile" with the fast emergence that mobile browsing was making. With such a large proclamation being made all that time ago, many companies still don't have a mobile strategy to this day and most don't even know where to begin. In fact, a study by Click Z found that 56% of brands characterize their mobile advertising efforts at a beginner level. With this percentage of organizations still at the drawing board with their mobile strategy and over 50% of Internet traffic originating from mobile devices, you can imagine the small minority of organizations actually getting it right.
3 Reasons Why You Must Go Mobile
The message is that while a few years ago, you had the option to go mobile, now, you have you need to go mobile. The usage of these devices is only going to increase over time, especially with the convenience and portability that they offer.
It's Personal
People love their mobile devices. Almost everywhere you look there are people using a smartphone. On the bus, train, in traffic, waiting in line, sitting next to their friends, it doesn't matter. It's as if there is no social boundary regarding how someone can use a mobile device. Some people spend more time on a mobile device talking to people than they spend actually talking to people.
You Can Gather Data
Harnessing the power of mobile can allow you to track your user's behavior and look for patterns that you can use to enhance their experience and your marketing. You can tailor every step of your consumer's journey through your app or website and analyze what sections need to be added or removed to increase conversions and interaction.
The Ads Can Have A High Click-Through Rate
Advertising on mobile platforms can drive enormous amounts of traffic to your website or bring floods of people through your doors. You can offer exclusive coupons through mobile ads so you can track their usage and conversions to build a full-scale marketing campaign around it.
There is now no excuse for not adopting a mobile strategy for your brand with the ever-increasing usage and assimilation into everyday life that it has made. You can drive sales, build a loyal customer base to use for marketing, and create a constant presence in the mobile space to continue to build your brand. This is the way the future is shaping to be, and you can imagine just how big it is going to become eventually.